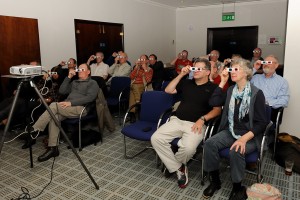 Lectures, Seminars & Workshops for Photographic Societies & Camera Clubs
"Thanks once again for your visit to Redditch Photographic Society. You enthralled us with your passion for Infrared and you inspired us to do more. The feedback I received from the afternoon session at Forge Mill was also universally positive: it made me wish that I'd sneaked out of work!"

"One again thanks for a 'landmark evening' right up with the very best speakers we've had."
Beyond Visible Light - a journey into Infrared photography
This fascinating and inspiring talk looks at the history of infrared photography over the last 100 years. It covers the discovery of "invisible" light, the invention of IR films and their many civilian and military uses, the move to digital camera conversion and even a moment of space exploration! Along the way I showcase the work of IR photographers from around the world as well as my own portfolio of IR images.
This talk is sometimes preceded by an afternoon field workshop where I work with a group of photographers taking their first steps into infrared photography.
Yellowstone in Black, White and Infrared
A journey into the frozen landscape of Yellowstone National Park in winter including wildlife and landscape images and exploring the challenges, opportunities and photographic workflow.
"Nothing can prepare you for Yellowstone – the intense cold, wild animals and the brutal yet beautiful prehistoric volcanic landscape – photographic opportunities don't get better than this!"
For more information please visit my website at
www.simonweir.com