Another set of pics from last months
Marylebone Summer Fayre
- this time of Lucas Wintercrane and his fabulous bubbles...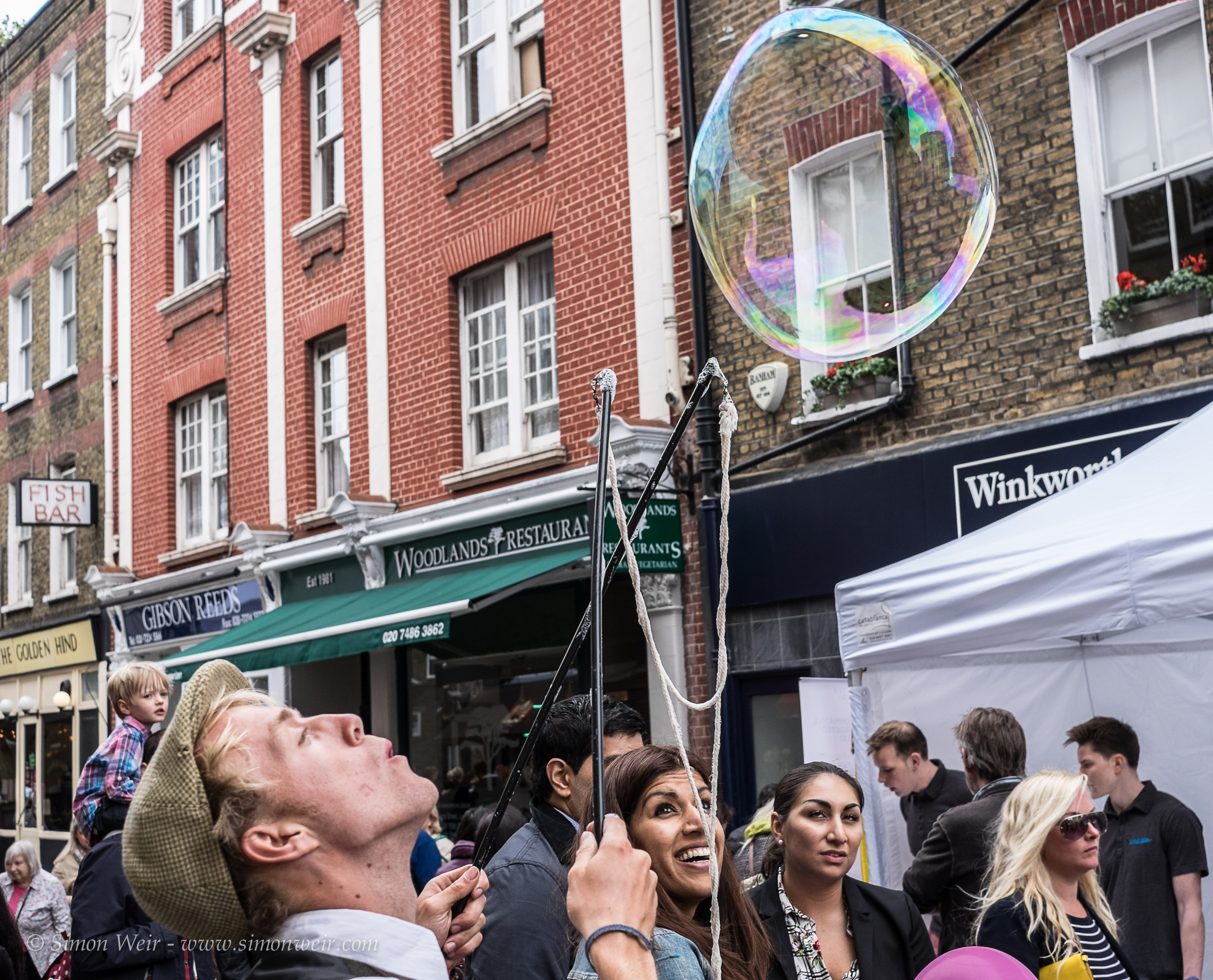 Lucas is a professional juggler, British champion unicyclist and lifelong all round circus performer who charmed the adults and children alike with his myriad of bubbles.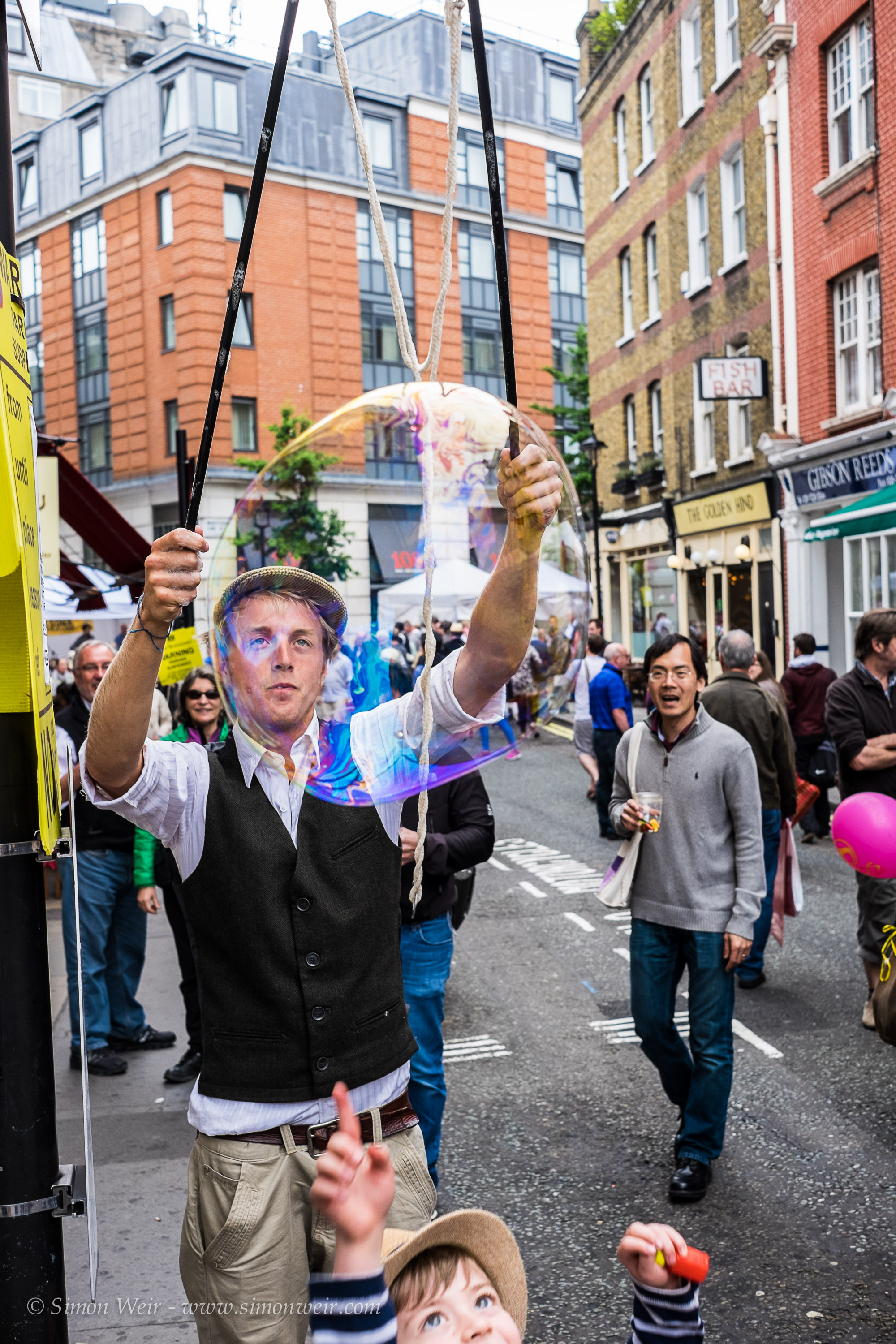 These images were all shot with the X-T1 and he 27mm f/2.8 pancake lens - the perfect combination for street photography - compact size, fast performance and the perfect angle of view. They are all shot at 1/125 sec, f/5 ISO400 and after a few experiments I ended up manual focussing in the X-T1's split screen mode where you see the full image on the left and a small magnified portion on the right with highlighted edges for focus assist. This proved to be quick and reliable allowing me to instantly select whether I wanted the focus on the bubble, the audience or the performer...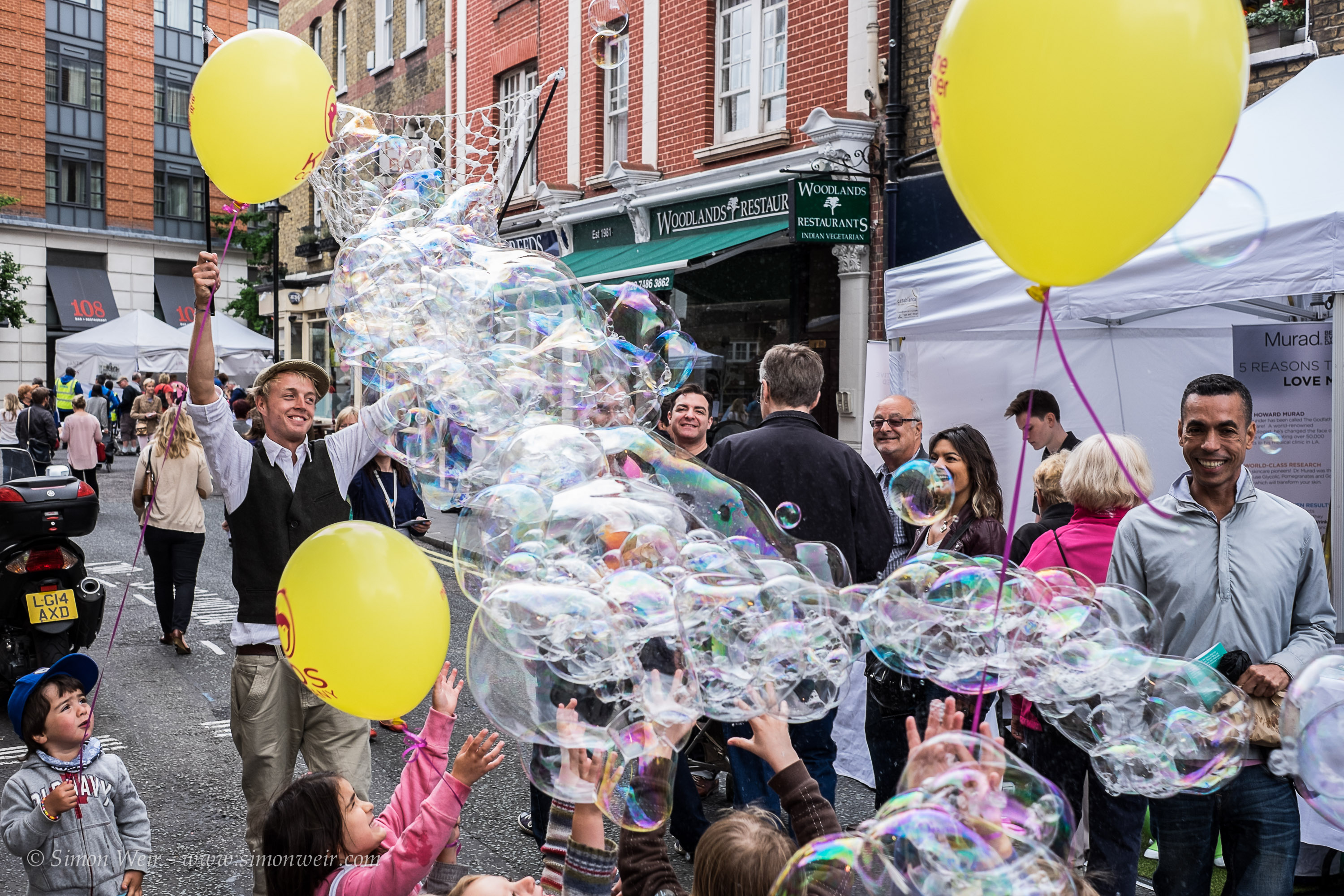 In composing these images you are looking for everything to coincide - a really good stream or bubbles and some excited children (or adults) interacting with them - beyond that all the usual rules of composition still apply: leading lines and strong diagonals, foreground and background subjects, and most of all storytelling. What I love most with this type of image is the way you can scan round the faces to see the diffract reactions together telling the story.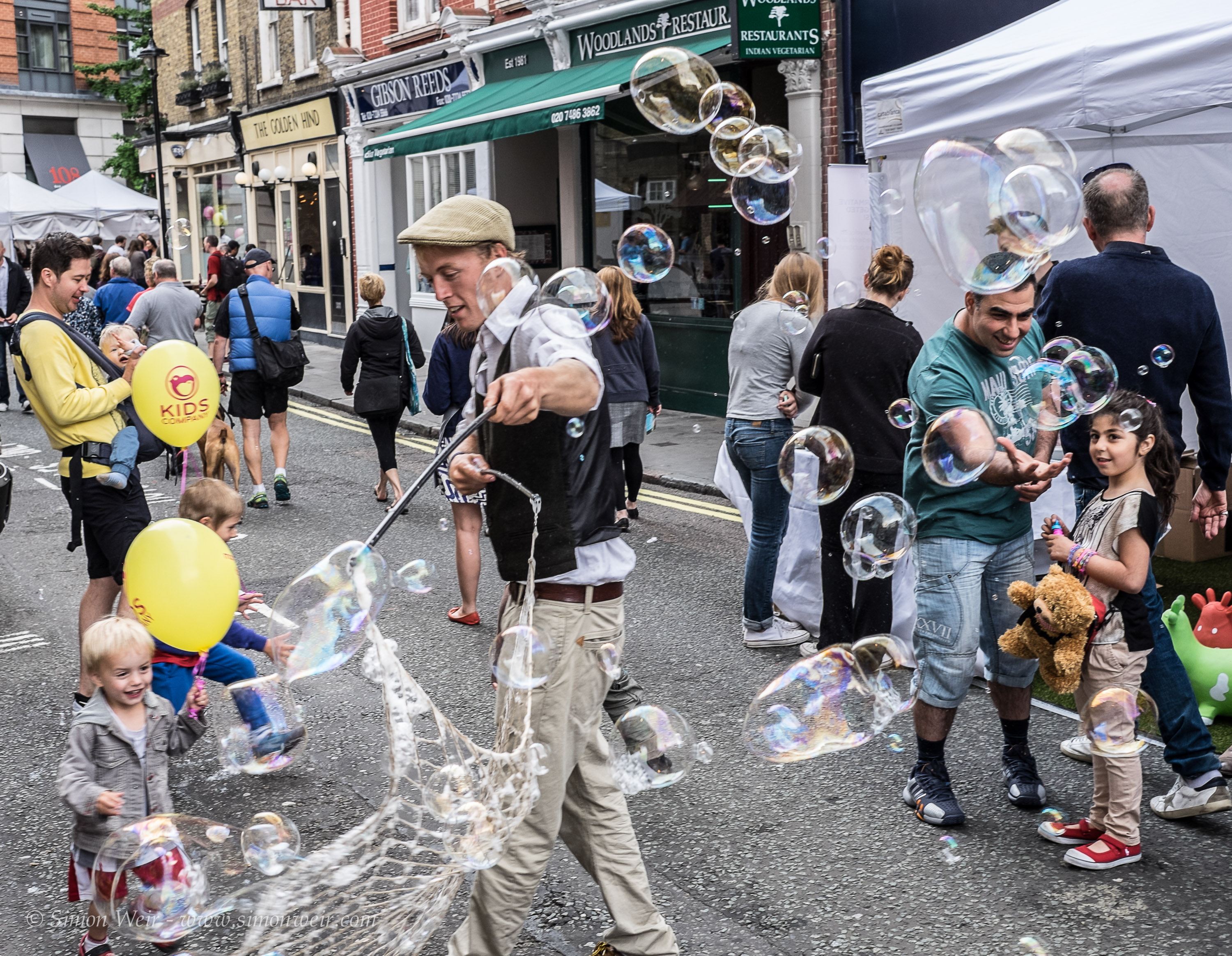 Post-production of the raw files was all done in Lightroom - a little push in contrast and a big push with the "clarity" slider - this really helps bring out the definition in the bubbles and emphasises their colours and highlights.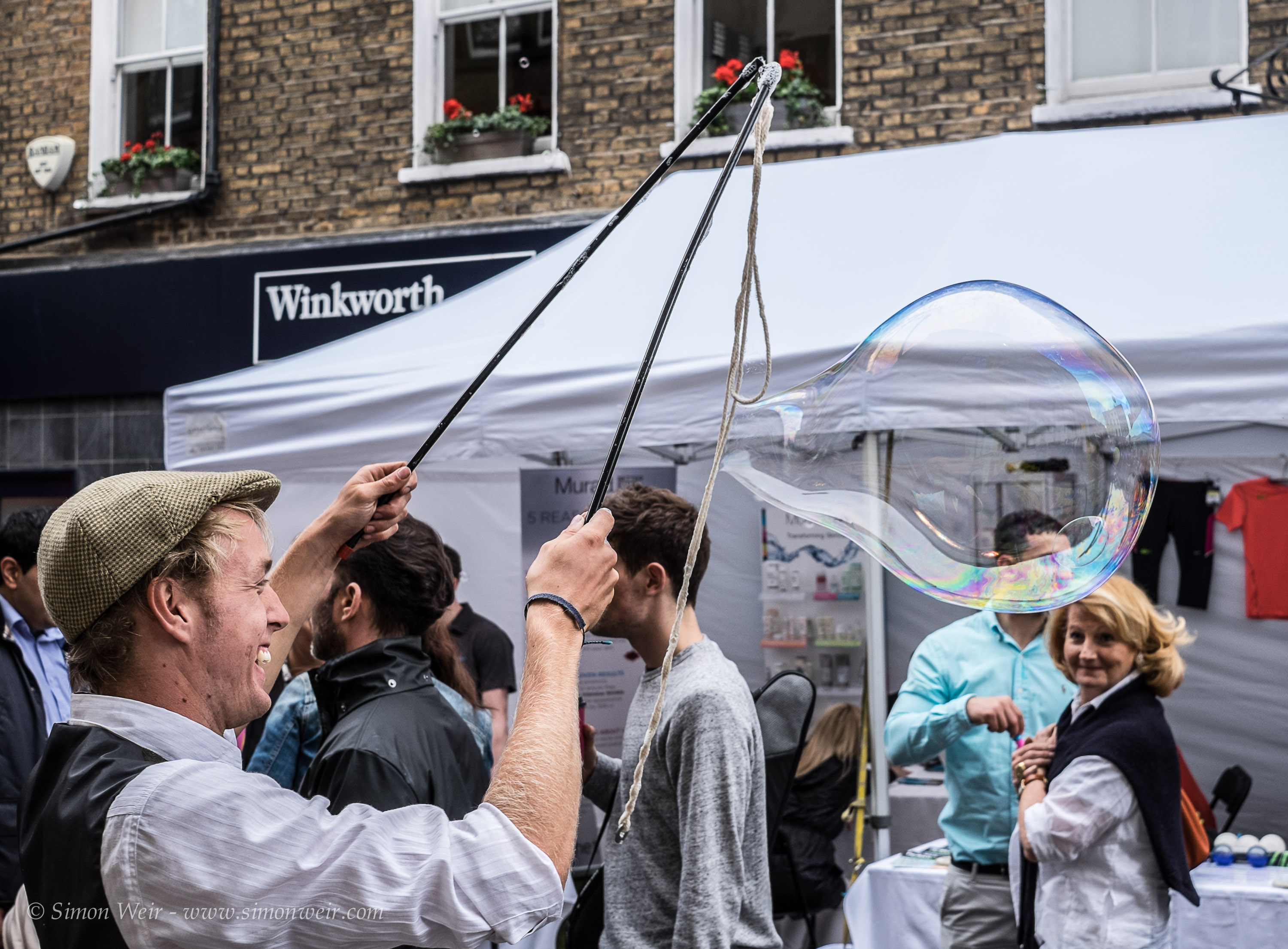 I am always happy to share street images with the subject - it is part of the fun! Lucas dropped me a line a few days later after I sent him some shots for his Facebook stream:
"I had a lot of fun! I've only really done the bubbles at festivals so far and I think maybe because kids are at a festival, so everything is already quite exciting and they haven't had quite as much magical responses. When you compare it with kids that are just walking around London and suddenly get bombarded with thousands of bubbles... It was a really nice feeling to be giving so much joy to kids and adults alike."
So if you fancy something different for your next party or corporate event head over to Lucas' website at
www.ukjuggler.com